Ruckus Wireless Wins Prodigy Award as Most Successful Alumni by the Telecom Council of Silicon Valley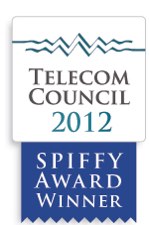 SUNNYVALE, CA – September 17, 2012 – Ruckus Wireless™ announced today that it was honored with a SPIFFY Prodigy Award as the Most Successful SPIF Alumni by the Service Providers Forum (SPiF) of the Telecom Council of Silicon Valley. The award was given at the Telecom Council's TC3 Carrier Connections event in Sunnyvale, Calif. on September 12.
The SPIFFY Awards recognize the "best of the best" in the telecommunications industry in Silicon Valley, as judged by SPiF members. The SPIFFY Prodigy Award is given to the pre-2011 SPIF presenting company that went on to achieve the most notable growth, market success or exit. Ruckus was named the winner from among a total of five finalists.
All companies making it through the filtering process were invited to present at a Telecom Council meeting, were identified as a promising telecom company. From among these, some young stand out for their innovation, market opportunity or quantifiable interest among the Council's 25 global Service Providers including AT&T, British Telecom, Docomo, France Telecom/Orange, Swisscom, Verizon, Vodafone and many other fixed and wireless carriers from Europe, Asia, India and North and South America.
SPIFFY awards were selected by the Telecom Council's Service Provider Forum (SPIF) from among over 200 startups representing the broad a range of telecom products and services who presented in Telecom Council meetings from January 2011 to May 2012.
"The Prodigy Award recognizes the stand-out company that our members believe has achieved the greatest success over the past year, and that will continue to lead the market in the future," said Liz Kerton, president of the Telecom Council of the Silicon Valley.
"It's a tremendous honor to be recognized by the telecommunications industry here in the Valley as the most successful SPIF alumni organization," said Rob Mustarde, vice president of marketing for Ruckus Wireless. "Our carrier-class Wi-Fi products are delivering unique business and technology benefits to mobile operators in almost every corner of the globe. And with the newest iPhone 5 now hitting the market, the growth in subscribers' data usage will continue at an exponential pace for the foreseeable future, which will put our solutions in even greater demand. It's an exciting time for the entire mobile industry."